Show results for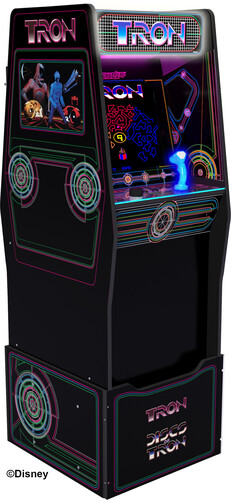 TRON - W/ RISER/ MARQUEE/ DECK PROTECTOR/ STOOL
ARCADE1UP TRON Arcade Game
Audiences were mesmerized in 1982 by Disney's release of the film Tron™, a groundbreaking fusion of live action and computer animation, setting the special effects stage for decades to come.
Video game players were equally drawn to the Tron™ arcade cabinet, widely considered one of the most beautiful designs ever. Arcade1Up is incredibly proud to produce the Tron™home arcade cabinet, among the most requested by hardcore retrogamers.
Redefining family game rooms, game caves, and even home offices, Arcade1Up gamecabinets have quickly become absolute must-haves for video game enthusiasts and pop-culture collectors alike; they play great, look great, and are instant conversation pieces.
Awarded "Coin-Operated Game of the Year" by Electronic Games magazine, Tron™ was revered for its gameplay and gorgeous aesthetic. The Arcade1Up Tron™ home arcade cabinet stays true to what made the game such a draw in 1982, right down to its signature inner lit blue joystick. Also included is the marquee game's sequel, Discs of Tron™
With its beautifully vibrant cabinet artwork, along with matching riser, stool, and crisp display graphics, theArcade1Up Tron™ home arcade cabinet is an icon of '80s culture, and a stunning addition to your home
Features:
WIFI Enabled Leaderboard
Light-Up front panel
Light-Up flight stick
Light-Up Marquee
Responsive Ink
Matching Stool
2 Games in 1
Games:
Specifications:
Responsive ink on control deck and screen adjacent inner side panels, illuminated byincluded black light under marquee
Custom designed cabinet and riser
Official Matching Stool Included
WIFI Enabled Leaderboard
Assembled Dimensions:22.13 D x 19.72 W x 64.72 H
Box Dimensions:12.38 D x 23.75 W x 47.75 H
Weight:95.24lbs
Adjustable Variable Volume
Clear Deck Protector
Anti-Tip Over Strap